The Importance of an Audit System to Companies
Auditing is a way of measuring the efficacy of the internal controls of a business. To achieve the corporate goals of a corporation, to obtain accurate financial statements on its activities to avoid fraud and misappropriation of its assets, and to reduce its cost of capital, it is important to maintain an efficient system of internal controls. Both internal and independent auditors contribute in separate but significant ways to the audit system of an organization.
Enables the Pursuit of Business Objectives
It is important for a business to have an efficient audit system because it helps it to follow and achieve its numerous corporate goals. To encourage oversight and monitoring, avoid and identify suspicious transactions, assess ongoing efficiency, maintain appropriate business records, and promote organizational effectiveness, business processes require different types of internal control. Internal auditors review the nature of internal controls and recommend changes in an informal manner and record any material anomalies in order to allow further management investigations to be carried out if they are justified under the circumstances.
Assess the Risk of Misstatement
In a company's financial reports, auditors determine the possibility of material misreporting. A business will not be able to produce accurate financial records for internal or external purposes without an internal control system or an audit system. It would therefore not be able to assess how its resources should be distributed and would not be able to know which of its divisions or product lines are profitable and which are not.
In addition, since it would not have the capacity to say the status of its assets and liabilities and would be made unreliable on the market due to its failure to reliably manufacture its products and services in a reliable manner, it could not handle its affairs. An audit system is therefore critical in avoiding crippling mistakes in the records and reports of an organization.
Fraud Prevention and Detection
For businesses, internal audit plays an important role in fraud prevention. Recurring analysis of the activities of a company and the maintenance of rigorous internal control systems can prevent and detect different forms of fraud and other accounting irregularities. Audit professionals assist in the design and modification of internal control systems, including the prevention of fraud, among other things. Deterrence can be an important part of prevention, and if a business is known to have an active and diligent audit system in place, it can prevent an employee or vendor from attempting a scheme to defraud the business by reputation alone.
Cost of Capital
For every business, irrespective of its size, the cost of capital is important. Capital costs are largely the risk associated with an investment, and an investor will require a higher rate of return on investment if an investment has more risk. Strong audit systems can reduce a company's various forms of risk, including its risk of information (risk of material misrepresentation in financial reporting), the risk of fraud and misappropriation of assets, as well as the risk of sub-optimal management due to insufficient operational information.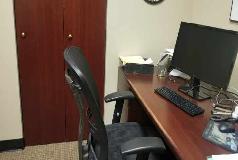 Do You Need Help Getting Ready For An Audit?
Are you terrified of you, your business, or your non-profit getting audited by the IRS? Do you wake up in the middle of the night at the thought of hearing that knock on your door? Call Robert Arnone CPA today so you can get busy relaxing tomorrow! We also handle internal audits, of course. We specialize in helping HOAs, non-profits, small and mid-sized businesses make sure their books are in order so business leaders can sleep better at night. So if you're even a little concerned, now is the time to act. Contact us today!